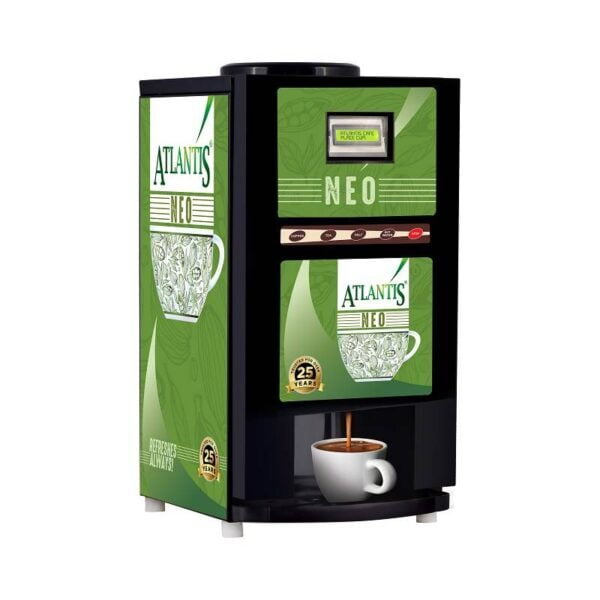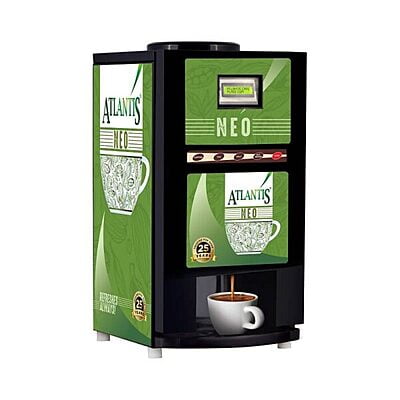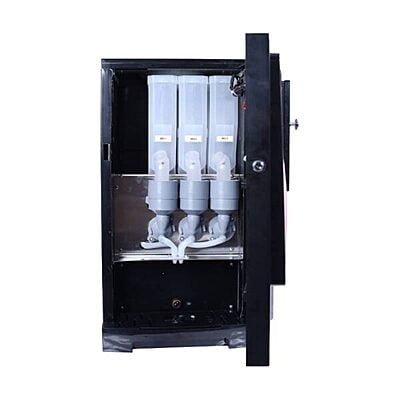 Atlantis Neo- 3 lane coffee vending machine
Non-returnable
Key Features
Magnetic Sealing Door
Adjustable premix and water quantity
Instant premix based hot beverage maker
12 months warranty
Low maintenance cost
Cup Counter
Half cup optional
Stainless Steel water tank
Auto Cut
Product Details
Specifications
Product Dimension: 625 x 340 x 470 in mm
Weight: 21.2 Kg
Brand: Atlantis

Model: Neo 3 lane
manufactured By: The vending Company, Gautam Budh Nagar.
Sell By: me shop
Address: Plot no 120, sector 9, Gurugram, Haryana, 122001
Contact information: 9971136843 / 9999696843
Country Origin: Made In India
Warranty terms : 12 months onsite warranty by manufacture.
Disclaimer: Me shop is authorize seller of Atlantis vending machines. All product information is as per manufacture website and catalogs provided. Prices on the website can be change without any prior notice. Warranty of the product is as per manufacture terms and conditions.
Technical Specification
No of lanes

3

No. of hot Beverage making options

3

Internal Tank Capacity

3 liter

Start up time

Up to 8 mins

Dispensing rate

Up to 22 cups of 100 ml in one time

Auto Flush

Yes

Dedicated Hot Water option

Yes

Coin / token Operated

No

No of Premix canister

3

Capacity of premix Canister

1.1 kg

Body material of Premix Canister

Abs plastic body

Front Door

Abs moulded

Body material

GI sheet

Magnetic Sealing Door

Yes

Steam dispersion

Exhaust fan

Power Consumption

2000 Watt

Led display Front

Digital

Operational Type

key press based

Tank material

SS 304