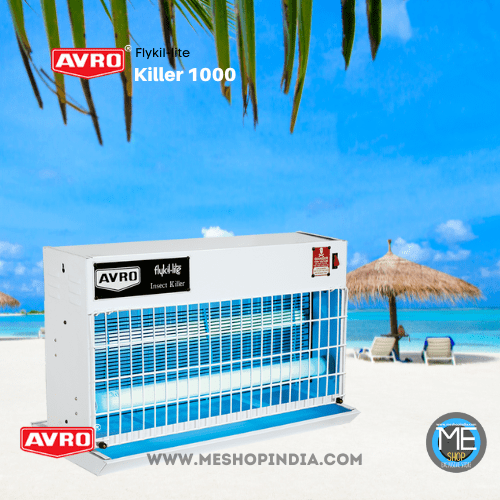 Avro Flykil lite killer 1000 electric insect killer
Avro flykil-lite is a most popular way to get rid from unwanted flying insects. Its a most common product using in food industry, package industry, hotel industry, corporate offices to get rid from flying insects. Avro is a one of the leading manufacture of flying insect killer machine in India.
100 % pollution free
Low power consumption
Kill all kind of flying insects like fly, mosquitoes, bees and wasp
Easy to clean and maintain
Removable dead body collection tray: all dead insects collects inside it
High voltage current inside but no current in outer body
Safe to use indoors
No harmful chemical, radiation, foul smell or any kind of refill required.
simply plug and play machine
Table top and wall mounted design
12 months warranty
Product Details
Specifications
Lamps : 2x18W / 20W
Consumption : 60W
Unit Size : 24.5"Lx9.5"Bx15.5"H
Package Dimension In CM :
Material : MS Body
Covering Area : 500-600sq ft
warranty : 12 months No warranty for tubes
Model: killer 1000
Warranty: 12 months no warranty for tubes
Brand : Avro
Manufactured By: Reeman Appliances
Category: Electric Insect killer
Seller name: Me shop
Location : Plot no. 120, Sector 9, Gurugram, Haryana, 122001
Contact Information : 9999696843
Country origin : Made in India
HSN Code: 8516
Are you looking to get rid from unwanted flying insects then you have landed on the right product. Avro Flykil lite kills all kind of unwanted flying insects like mosquitoes, fly, bugs etc. It attracts them with lamps and kill them with high electric shock grid around the tube. Its fast, effective and the most cost effective way to get rid from these flying insects. Avro is a leading flykil-lite manufacture from 3 decades. They are known for quality mosquito killer lamps, air curtain, hand dryer, soap dispenser, electric insect killers in India. Shop avro super sonic 2 online for your home and office and make your place secured.
Specification
Make

Avro

No. of lamps lamps

2

lamps type

Florescent

Power Consumption

60 W

Coverage Area

500 Sq. ft.

Body material

MS body

Color

White
Electricals
Voltage

220 V

Phase

Single phase

Frequency

50 HZ

Choke type

Electric Choke

Choke power

40 W

No. Of Choke

1

HT trasnformer

Yes

HT transformer outpur

2500 V

Bl UVA Tube Grade

ACTINIC T8

Bl UVA Tube Power

18 W
Warranty terms
warranty Period

12 months

Warranty terms

Onsite

Parts not covered under warranty

Tubes